Golfing in Leitrim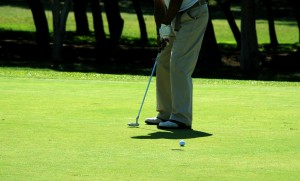 Lake View House & Lodge is the perfect base to co-ordinate your golfing holiday in Leitrim. We are ideally located to provide year round, easy access to some of the best golf courses in Ireland. We provide self catering accommodation for golf societies and individuals alike whether its a weekend golfing break or a full golfing holiday.
Local Courses
Ballinamore Golf Club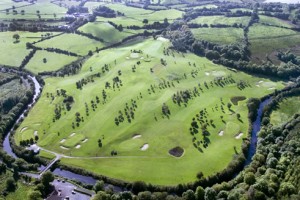 Ballinamore Golf Club is located just a short drive away on the outskirts of Ballinamore, along the Shannon Erne Waterway. The course itself is a beautiful 9 hole parkland course set in rolling Co. Leitrim farmland, providing panoramic views of Sliabh an Iarainn (Iron Mountain). The course is bordered on three sides by the Ballinamore – Ballyconnell Canal and the steady passage of boats along the canal makes the course a pleasure to play. The Club was founded in 1934 and in 1996 Dr. Arthur Spring re-designed the course which was officially opened on June 26th 2004. It has established itself as one of the finest 9 hole golf courses in the region.
Green fees start at €20 per day and there are reductions available for societies and groups of more than 10 people.
Website: ballinamoregolfclub.ie
Carrick On Shannon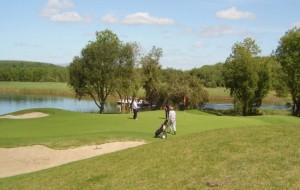 Carrick on Shannon Golf Club is located only a 20 minute drive away on the main Sligo to Dublin Road. The course itself is an 18 hole parkland course that will provide a challenge to both the beginner and experienced golfer alike while offering a wonderful mix of scenery with views taking in the Arigna  and Curlieu Mountains while the Boyle River meanders by the eight and twelfth tees as it flows through Drumharlow Lake. There are some spectacular holes, not least the eight where the tee-box is surrounded by water, requiring a carry-over.
Tee times can be pre-booked online by clicking here
Website: carrickgolfclub.ie
Slieve Russell Golf Club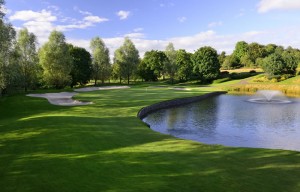 Slieve Russell Golf Course is located in nearby Ballyconnell, Co. Cavan and has played host to some major golfing events in its history, including The Irish PGA Championship in 1996 and the Quinn Insurance PGA Charity Pro-Am, which has been held there since 1997 and has now become an annual event, boasting one of the highest prizefunds in Europe. The Slieve Russell has also played host to European Tour events – North West of Ireland Open in 2001 & 2002.
This 18 hole championship course is wrapped around the lakes and drumlins of the County Cavan landscape and is ranked in the Golf Digest Top 15 Parkland Courses in Ireland.
Website: slieverussellgolf.ie
Strandhill Golf Club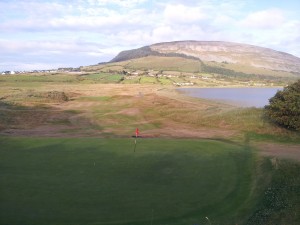 Strandhill Golf Club is located a short drive away in the picturesque village of Strandhill, Sligo. With Knocknarea Mountain and Queen Maeve's Cairn as a backdrop and stunning panoramic views of Sligo Bay and the Benbulben Mountain Range, this 18 hole links style golf course, founded in 1931, provides a challenge to both the beginner and experienced golfer alike.
The present 18-hole course was opened in 1973 and a new, modern clubhouse was unveiled in 1997. However, following the accidental destruction of the clubhouse in 2005, a new chapter has been embarked upon with the development of a new clubhouse in 2006, the year in which Strandhill Golf Club celebrated its 75th anniversary.
Click here for rates
Website: strandhillgolfclub.com
Castle Dargan Golf Club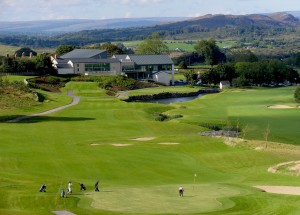 Located just 30 minutes away on the outskirts of the village of Ballygawley, Co. Sligo,  Castle Dargan Golf Course is a Darren Clarke designed, 18 hole parkland course. Making the most of the natural ebb and flow of the Sligo estates grounds, Darren has woven eighteen beautiful golf holes through majestic trees, natural lakes, burns and around the ancient stone walls and ruins which dominate this romantic landscape while embracing the land rather than trying to impose his design ideas upon it. Castle Dargan provides a calming but eerie presence on the horizon which adds to the soulful atmosphere of the resort that has everything you could ask for.
Golf at Castle Dargan is available to members and visitors alike and will appeal to golfers of all abilities while providing a new golfing experience in the North West of Ireland.
Website: castledargan.com/golf